Giambattista Tiepolo, Scherzi

Newsletter - Décember 28, 2016

2016 is leaving us... It carries with it a rather mixed bag of memories and, as it nears the New Year horizon, it crosses an ungainly caravan coming straight at us with three disquieting Magi: Trump, Putin and Fillon. To try and work out what this all-too-real mirage implies, what its intentions are, and how to vote (very soon it is the turn of France) – we need to listen attentively to the voices of the augurs...

"Augur is a compound of avis (a bird in Latin, a warning in French) - and the radical gus / gusto (taste / foretaste / omen): one who tries to decipher the avis, the movements and songs of birds. An avis is a point of view (mihi est visum), a position where birds have a clear advantage on us!"

2017: The Myth and Theatre Festival (June 18 to July 2) will consult one of the most formidable augur-diviners of Antiquity: Tiresias: Mantic Voice, Blind Seer, Transsexual – for many: a prophet of doom and gloom. This is understandable: his omens and visions are all but soothing… Think of Oedipus.

The inner workings of choreographic theater are essentially mantic, oracular, augural. And if you consider that "the voice is always a dream", then the voice is also mantic. Both search for and offer meaning and ask for it to be pronounced, performed.

Moreover, the effervescence around gender studies, queer theories and transsexuality, is one of the most active cauldrons in contemporary alchemies, offering therefore great creative potential. Tiresias changed sex more than once in his/her's long life (myths speak of three hundred years!)


Paris

Open Doors session on Saturday, January 28, 2 to 5 pm. Enrique Pardo: introduction to three chapters:
1 - voice and voice performance: presentation and applications of the Roy Hart voice work.
2 - choreographic theater: the integration of voice and movement, with vocal choirs and texts.
3 – actor's training and object metaphor, in what is called "The Academy of Boredom".

Classes, workshops + laboratories & seminars will resume in January - till April.

Voice Performance & Music Workshop (February 6 to 17) will close with a workshop concert, and include lectures on the role of Chorists/Vocalists and on Alchemy.

Kaya Anderson will be back in Paris January 6 to 20 for classes and two weekends workshops.

Book of the Year: La Jalousie - Une Passion Unavouable, by Giulia Sissa, (Jealousy: A Forbidden Passion – English translation foreseen April 2017). A scholarly and passionate updating of the cultural and political history of jealousy, taking clear and strong positions – and magnificently articulate. This book made me put forward two hypotheses: "jealousy could be the main complex underlying my theatrical work", and this, because "jealousy is the shadow of Eros". As a principle and as a phenomenon, jealousy destabilizes human ideals and asks us to rework them over and over, deeper and deeper. According to Giulia Sissa, three factors must be taken into account in the art of jalouser (jealousing): "the movements of voluptuousness, the tempo of desire and the particular regime of erotic truth". I.e. theatrical reason and quality of gesture ... E.P.


Very best of augurs to you …
Enrique Pardo, Linda Wise and PANTHEATRE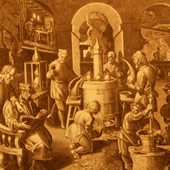 Laboratoires
Performance sessions with Enrique Pardo and a circle of artists: choreographic theater : a blend of voice & singing / movement &/ acting with objects (The Academy of Boredom).. Open to all: risk and commitment. From January 23rd, on Mondays: from 7 to 10pm.
Paris La Villette.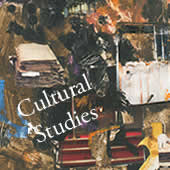 Seminars
Twice a month seminars: lectures and theoretical discussions - with video projections - linking the laboratory work with cultural, mythological, politics and the voice philosophy of Roy Hart. Next ones on Alchemy.
Sunday, February 12, at 6:30 pm.
Paris La Villette.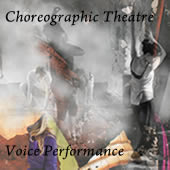 Voice Performance
Regular weekly sessions.
A corporal and performance approach to singing and to vocal work. Poetics of air: the airs we sing, the airs we give ourselves, the 'airs' of what we look like.
In small groups (max 5).
On inscription.
First trial session 15 €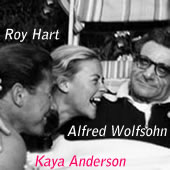 Kaya Anderson
Kaya Anderson, back in Paris: she was the pupil of both Alfred Wolfsohn and Roy Hart, and is now the 'doyenne' of the "Roy Hart" teachers. Two weekends:
7/8 January (6 hours in total)
15 January (5 hours in total).
Waiting list for individual classes.CONTACT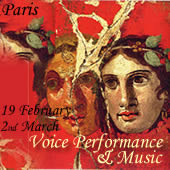 Voice / Musique
2-weeks professional workshop : voice performance & singing, music & choreographic theatre. Application of Roy Hart voice work.
Master classe on the role and natrure of Chorist / Vocalists - and on The Schools of Alchemy.
February 6 - 17, Ending with a concert. Studio DTM, Paris 11e.

Myth & Theatre
Festival
Workshops & master classes during the day (direction Enrique Pardo & Linda Wise & guest artists) + performances , conferences, debates in the evenings. At Malerargues, Roy Hart Centre, Southern France. June 18 to July 2 = 2 weeks or partial registration.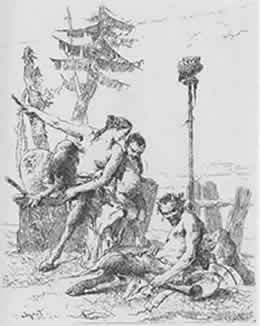 Tiepolo, Scherzi 6. "Family of fauns, resting" (?)

New Articles
Disparates & Zigotos
Praise for three performance : (M)imosa and DFS (Chignaud, Belgolea + Monteiro Freitas) and Dans l'oeil du regard, by Club del Pescado.
Security / Insecurity : Panic reflections during a choreographic theatre laboratory.
Strophe, antistrophe, catastrophe.
LACURA, performance by Bibiana Monje, Madrid Nov. 2. 2016. Lacura, is clearly The Cure, but also - oh so close in Spanish to Locura: madness.
Listen with your eyes, look with your ears, and...move those toes ! Photo Didier Monge
Professional Training
Roy Hart Voice Teacher Diploma
Linda Wise and Enrique Pardo direct a Professional Training Program in voice performance and choreographic theatre. The program can include (on request) the Roy Hart Voice Teacher Diploma.

The training involves voice practice and studies: expression, musicality, performance, choreographic theatre and cultural studies. The teachers' diploma requires additional mentored training, including teaching individuals and groups, supervision dialogues and (optional) a performance project. It can be done in complementarity with other Roy Hart teachers and programs.