Training Projects l Voice l Choreographic Theatre l Cultural Studies
Choreographic Theatre
see also
THE LUNATIC LABORATORY PROJECT
IMPROVISATION : A TRAINING PROGRAMME
LABORATORIO : Choreographic Theatre & Alchemy
Choreographic Theatre was developed by Enrique Pardo - it is the label that best reflects the complexity of his work - related to, but distinct, from contemporary currents like dance theatre, physical and corporal theatre, image theatre, non-narrative theatre, performance art, etc.
Enrique's proposals offer one of today's most demanding synthesis in the inclusion not only of movement, dance, music, voice and singing, but especially of spoken TEXT - which has been excluded by too many contemporary performers whose work has become excluvely visual and musical pageants.
In his view, language is humanity's greatest conquest, and yet, like much of contemporary performance, he also reacted against the "classical" theatre model with its excessive dependance on acting rethorics, talk, dialogue and the need for linear narrative. His work offers both philosophical and technical tools to confront this dilema so that each artist can find his or her voice and performantive eloquence.
Enrique collaborates with artists from very different backgrounds, ages and esthetics - each bringing his or her own contribution to the work. This is especially the case regarding dance and movement styles. He favoured working with choreographers and dancers, sharing their corporal dream-like dramaturgies and their non-narrative sense of composition. But he also questioned dance's silence and its links with singing and music.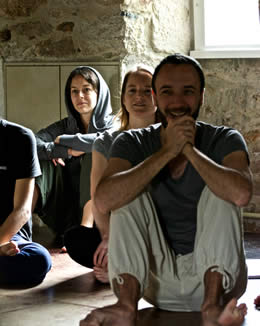 Choreographic Theatre :
Look with your ears,
Listen with your eyes, and...
Dissassociate those toes !
Photos Didier Monge