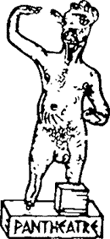 Definitions
Pantheatre is a French Non-Profit Association, the organisational umbrella for the artistic projects of its two directors: Enrique Pardo and Linda Wise, with a wide circle of associated artists.
Pantheatre is based in Paris (October to March) and at Château de Malérargues, in Southern France, the Roy Hart International Artistic Centre (April to September).
Two important figures have marked the evolution of Pantheatre :Liza Mayer, president and artistic collaborator, who passed away in December 2009 - see In Memoriam - and American psychologist and writer James Hillman who was its honorary president - see Homage to James Hillman.
Founded in 1981, Pantheatre was the first independent company to emerge from the Roy Hart Theatre (1969-1989). Its directors are founding members of the Roy Hart International Artistic Centre and co-owner-members of Malérargues, and contribute to the Roy Hart diploma programmes.
PANTHEATRE's training projects are assembled in PANTHEATRE ACTS (Acting Choreographic Theatre Singing) a professional context with regular workshops and long term INDIVIDUAL PROJECTS.
PANTHEATRE ACTS

Important Note 2011: Following the death of Liza Mayer, president and collaborator of PANTHEATRE, its directors, Enrique Pardo and Linda Wise, took the decision not to use the "school" model or to offer training diplomas. The transmission is based on direction, mentorship and supervision by Enrique Pardo and/or Linda Wise in collaboration with the artists and teachers associated with PANTHEATRE. The goal is that each artist can make his or hers the work and use it in their own way.

PANTHEATRE ACTS offers participation certificates for all its projects. The Roy Hart Association maintains a Roy Hart Voice Teacher diploma. Enrique Pardo and Linda Wise will continue to contribute to this project as long as they agree with its deontology and with its quality criteria. PANTHEATRE certificates can be used as credits for the "Roy Hart" diplomas.

Concerning artistic productions, PANTHEATRE's position remains that which arose from the dissolution of the "Roy Hart Theatre" label in 1989, that the name "Roy Hart" must not be used for artistic creations, and that these must bear the signature of its authors and / or of their companies.

Pantheatre was founded in 1981 by Enrique Pardo with a solo performance on the God Pan, following several years of voice and movement research with a circle of actors from the original Roy Hart Theatre Company - amongst them, Liza Mayer, Linda Wise, Vicente Fuentes, Saule Ryan, Kevin Crawford, Diana Palmer, Noah Pikes, Kozana Lucca, most of whom were involved in early Pantheatre productions like "Poesis" (after Wallace Stevens), and "Demeter" (both 1985).
Pantheatre's Myth and Theatre Festival is an international organization of festivals, forums, workshops. It was created in 1987 under the auspices and presidency of James Hillman and a circle of friends linked to archetypal psychology and cultural studies.
See also Linda Wise's 1998 ACTS Founding Letter
The three main activities of Pantheatre are:
Setting up and directing performances


Research and training projects (from short workshops to long term courses)

Paris Annual Professional Projects and Workshops
Malérargues / Roy Hart Centre

3. Cultural Events and Studies



Conferences and lectures - consult AGENDA

PANTHEATRE is a French Association (Non Profit 1901 Law)
and an officially recognized higher education establishment with working links with training institutions and universities throughout the world.
It has recieved subsidies for its activities, in France , from
The French Ministry of Culture
The French Ministry of Foreign Affairs
The DRAC (Department of Regional Cultural Affairs) of Languedoc Roussillon, Montpellier
The Conseil Régional du Languedoc Roussillon, Montpellier
The Conseil Général of the Department of Gard, Nîmes
ADAMI and AFDAS
Since its creation in 1981 Pantheatre has produced and coproduced over 30 internationally touring performances, and directed research and pedagogy projects throughout the world .
PANTHEATRE ACTS is an officially approved further education programme in France, especially by AFDAS (French Equity / Actor's continued training programme.)
SCHOLARSHIPS : Pantheatre ACTS is a private training context. It offers scholarships to artists linked to projects in Haiti and in Peru. In some projects it offers reductions and work-exchange participation to long term participants, to active members of the Pantheatre Association and linked Companies (Chile, USA, Milano.). Participants have often obtained grants in their home or residence countries (Australia, Chile, USA, Norway, Hong Kong, etc.) - more rarely from French embassies (Haiti, Brasil).
PANTHEATRE is a French non-profit "Loi 1901 Associtaion"
President : Olivier Neaud / Treasorer : Angelo de Bernardo
Secretary : Didier Monge
SIREN SIRET 377 84 24 22 000 18
Code APE 9001Z
N ° agrégation formation permanente 91300092130
N ° Licence Entrepreneur de Spectacle de 2e Catégorie No: 30.0972
N ° adhérent AFDAS 36876
Association Loi 1901 - Non Assujétie à la TVA
Linda Wise's 1998 ACTS Founding Letter
Not so many years ago, voice training addressed principally the performing arts. Now, the voice and the capacity to "voice oneself" is acknowledged as an essential aspect of personal development and communication skills, in the corporate world, politics, therapy, education, medicine. For professional artists there are also greater demands for flexibility in vocal skills, as performers are required to move easily from classical theatre, to musicals, to dance-theatre, to film and television and to new forms of singing, from rock to contemporary opera.
The programme I am presenting here stems from a wish to synthesize and transmit my experience as an actress, voice teacher and theatre director, with the recognition that one of the deepest creative sources of my work is the voice. Throughout my career, I have continued to give voice lessons to a wide variety of individuals ranging from opera singers, actors, dancers, adolescents, corporate managers, to people who say they 'have no voice', or, sing 'out of tune'.
My approach to the voice is rooted in my work with Roy Hart and the Roy Hart Theatre in the 70s and 80s, relativized and enlarged by the experience and insight of other teachers and disciplines. The explosion of interest in and knowledge about the voice in the last years has also shifted viewpoints and provoked a re-evaluation of methods and philosophies. It is my wish to create a training that addresses these questions, that encourages a spirit of enquiry, and where the priority is the individual, not the method.
The pioneering research on the extended voice begun by Alfred Wolfsohn and passed on to Roy Hart and the Roy Hart Theatre has a rich and varied history and, at times, the nostalgia for this legendary past can obscure the depth of current work and new developments. It often seems as if the history is 'the method', and philosophy enough. Neither Alfred Wolfsohn, nor Roy Hart established a methodology, and chose to pass on their views and experience within an initiatory model, very much in the spirit of the 60s and 70s. Now, as we move into the 21st century, over 30 years have passed since the creation of the Roy Hart Theatre and almost 25 years since the tragic death of its founder. Members of the Roy Hart Theatre have settled throughout the world. This has brought diversity and divisions, as well as a large number of teachers using the label "Roy Hart", inspired more or less directly by the original experience. Only the integrity of the individual teachers acts as warranty for the 'method'. The Roy Hart Theatre as a performing company and as an artistic label was officially dissolved in 1989. My own artistic projects go under the identity and responsibility of Pantheatre, a company founded in 1981, which I co-direct with Enrique Pardo. Links with other training programmes by teachers of the original Roy Hart Theatre will be possible, as well as with the Roy Hart International Artistic Centre at Château de Malérargues, of which I am an active member.
Paris, September 25, 1998